Golf brings people together. As my students Norika Tsukamotoand Issy Taylor found on the Monday long weekend, golf's a great way to spend an afternoon, share a story and enjoy some fun moments all the while playing on one of the best courses Sanctuary Cove Pines in Australia.
Preparing to compete in the Women's interstate series next week as part of the Queensland team, 16-year old Issy played 9-holes with my newest student 18-year old Norika who has relocated from Japan to spend time in Australia improving her golf game.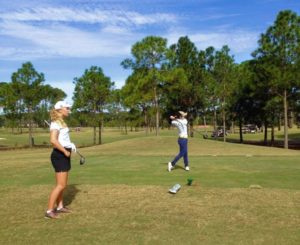 A big fan of Japanese culture Issy picked up a few new Japanese phrases including 'sugoi' when Norika birdied the 4th par 3.
Well done girls! Great to see you playing good golf and enjoying the afternoon!
MJ Golf Performance can assist with lesson and membership packages for overseas golfers who wish to take advantage of Sanctuary Cove Golf and Country Club world class learning facilities.